Welcome!
.
Due to COVID19 our Resource Room is currently closed to the public
WE STRONGLY ENCOURAGE ANYONE WITH QUESTIONS TO CALL THE ONE-STOP CAREER CENTER 315-386-3276
WE WILL MAKE EVERY ATTEMPT TO HELP YOU OVER THE PHONE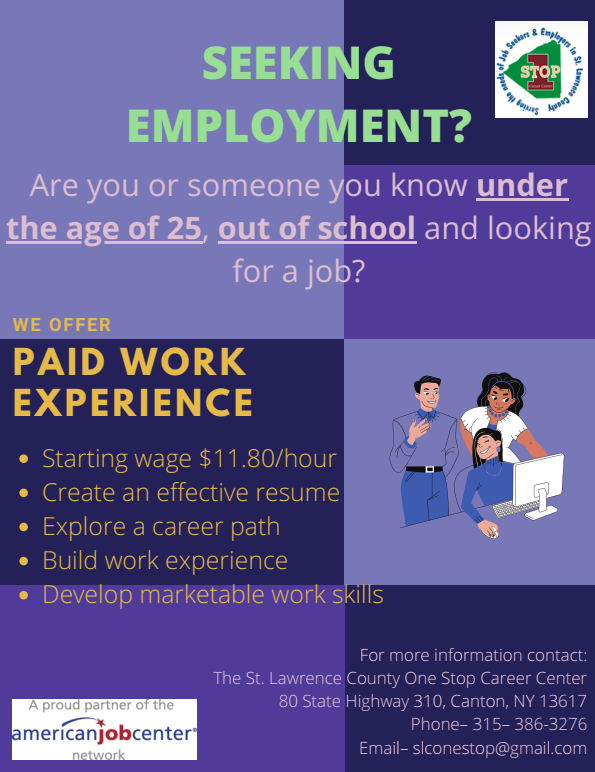 IF YOU NEED TO FILE AND UNEMPLOYMENT CLAIM PLEASE VISIT THEIR WEBSITE AT WWW.LABOR.NY.GOV
OR CALL TOLL-FREE 888-209-8124
A counselor is available to familiarize you with the Center's many services!
Veterans Come First!
St. Lawrence County is proud to offer Priority of Service to veterans and their eligible spouses. This means if you served in the military, you will be served first by the next available staff member, and given first priority for jobs and training for which you are eligible and qualified.
The Jobs for Veterans Act (JVA) created a priority of service requirement for covered persons in qualified US Department of Labor Job Training Programs. We encourage you to identify yourself as a Veteran, Eligible Veteran, or Eligible Spouse at the first opportunity (and thereafter) that you have contact with the Career Center or any of its affiliate sites.
For more information:
Veterans Priority of Service Statement
Please enter a search term to begin your search.
News at One-Stop
---
Request for Proposal
The St. Lawrence County Workforce Development Board has just released a Request for Proposal (RFP) for a One-Stop Network Operator. Proposals must be received by March 3, 2021 with services commencing on July 1, 2021. For a copy of the RFP please call 315-229-3376 or click on the link below.